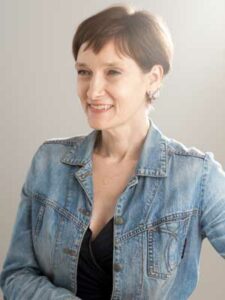 I grew up journaling as early as I could write.
Raised in the heart of the Midwest, I still have my first "Snoopy" diary with a broken lock and missing key. It was the way I processed the world around me and made my inner experience real.
Many years later, journaling segued into professional writing. I started as a screenplay translator while living in Paris. In New York City, I wrote and directed two short documentary films about the sudden death of Jonathan Larson, creator of the Pulitzer Prize-winning musical Rent; and then I landed in Los Angeles, where I wrote and created for children's television (Jim Henson, Nickelodeon, and National Geographic Kids). I also published two coffee table books, including one about secret societies. At the same time, I sharpened my editorial eye as a story analyst for Creative Artists Agency (CAA), 20th Century Fox, and Gaumont Télévision.
But I would find my true calling inside the burgeoning spoken-word movement in Los Angeles, largely inspired by the groundbreaking series The Moth.
During my 13-year tenure as co-executive producer of Spark Off Rose, a popular spoken word series in West LA, I worked closely with writers and often with deeply personal material. It is there that I discovered my love for memoir while cultivating both fresh and seasoned voices and directing the monthly live stage performances. In guiding the writers through the process, I came to know the power of storytelling — witness to the transformation and healing — as well as the deep sense of community and connection that happens when we share our stories.
I felt the call to create a space where writers would not feel the pressure of an audience; a place where they could discover and peel away the layers of their stories. In 2009, I began offering workshops in LA, beginning with my signature course Unlocking Your Story. And so Spirit of Story was born. The offerings have since expanded to include other live workshops and retreats, e-courses, a monthly e-letter and blog, one-on-one story mentoring and editing, and live author events.
Outside of Spirit of Story, I have taught at California State University at Fullerton, UCLA Extension Writers' Program, the San Miguel Writers' Conference, among others. I hold an M.F.A. degree in screenwriting from Cal State Fullerton and an undergraduate degree in theatre from Northwestern University.
I live in Marina del Rey, California, with my pup and 11-year-old daughter, who reminds me every day how to play. I've had a longtime yin yoga practice, am a late bloomer to discovering the joy of cooking, and love to spend time deepening my spiritual, healing, and creative studies.
And yes, I still keep a journal.
Testimonials
"Working with Karin has provided me with a supportive partnership to excavate the treasures of my story. She has a gentle style of eliciting the essence of what I'm trying to say by asking penetrating questions that cut right to the heart of the material. Writing can be such a lonely task and with her solid understanding of the craft coupled with creative collaboration, I'm able to accomplish my goal of completing a memoir I've been struggling with for years. Karin's stewardship has given me the ability to put the words on the page with confidence. She is a master storyteller and knows how to develop the scaffolding necessary to build a manuscript from inception to completion."
— DC
"Oh Karin… you are a gifted teacher. First, you are the most astute listener; you are able to reach through the weeds of a cobbled-together story and pinpoint the true intention of the writer. The questions you pose of the writer demand that she pull from her own experience and expression. There are no pointed questions where you wait for the hapless writer to arrive at the correct answer... it's all gauged so gently, probing but not poking. You promote an atmosphere of respect among us for each others' work and our individual processes. We all come to it differently, and there's no judging.
You seem able to meet each person where they are, respectful of whatever they bring to the table. You are responsive and wise. I can feel your years of reading, studying and dissecting as you help us explore what we've written and where we want it to take us."
— Meredith Baxter
"I love your style of teaching, way of being, and the space you hold and the opening you create. Just so grateful for what you do. I really love how you protect and nurture writers and writing, and the wonderful way you love through your work. You are a transformative person in my life."
— Kelli Bean-Miranda
"Thank you for pouring your heart and soul into your work. It shows. I FEEL it. You are the embodiment of grace and warmth and risk taking. I am so grateful to be connected to you."
— Samantha Weaver
"I would whole-heartedly recommend Karin to any aspiring writer who wants to make sure that her work is 'there' before sending it out to agents. Karin's edits of both of my books were so comprehensive that I've yet to be surprised by any other notes that I've received on either of them. Her edits are thorough and constructive. She not only points out problems, but she also inspires you to think about solutions. This is why I plan to also send my future work to Karin, before I send them to my agent or publisher."
— Ernessa T. Carter, author of 32 Candles
Contact Karin Read Karin's Blog Posts

Contact Information:
Marina del Rey, California
Website: www.spiritofstory.com
Email: karin@spiritofstory.com
Author Coaching Book Proposals Book Shepherding Developmental Editing Manuscript Critique/Evaluation